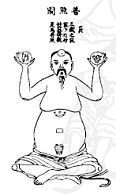 Data:
piątek 30 październik 2020 (09:00 -20:00)
sobota 31 październik 2020 (09:00 -20:00)
niedziela 1 listopad 2020 (09:00 -20:00)

Miejsce:
Shambhala Krakow
Nauczyciel :
Sophie Leger
Koordynator :
Mirosław Flokiewicz
Osoba do kontaktu : Mirosław Flokiewicz
Tradycyjny chiński Qigong: Poziom 5 z Sophie Leger
Wszystkich którzy ukończyli poziom 4 Qigong w linii Evy Wong zapraszamy na unikalne zajęcia QiGong - Poziom 5.
Podczas warsztatów uczestnicy będą się uczyć form: Lamparta, Węża i Żurawia w pozycjach Treningu Pięciu Wewnętrznych Zwierząt z linii Wudang Shan. Forma Lamparta wzmacnia i uelastycznia ścięgna; wąż rozwija giętkość kręgosłupa, aby ułatwić krążenie qi; a forma żurawia zwiększa zdolność organizmu do zachowania i magazynowania energii generatywnej (jing). Ponadto, zanurzając się w duchu tych zwierząt, uczestnicy będą ostatecznie ucieleśniać wybuchową moc skaczącego lamparta, nieuchwytny ruch węża i zrównoważony spokój żurawia w spoczynku. Część 3 Przewodnika Nieśmiertelnych po automasażu i regulacji oddechu. System ten łączy w sobie automasaż i regulację oddechu, aby ułatwić oszczędzanie i krążenie wewnętrznej energii. Część 3 systemu Chen Xiyi's Red Phoenix Calisthenics. System ten łączy w sobie zmianę ścięgien, kalistenikę, automasaż i regulację oddechu.
Kultywowanie ciała musi być zrównoważone przez kultywowanie umysłu. Dlatego też, medytacja siamatha Shambhala będzie zintegrowana z praktyką qigong w całym programie.
O nauczycielu:
Sophie Léger jest jedną z niewielu osób upoważnionych i przeszkolonych przez dr Evę Wong do nauczania jej taoistycznych linii Qigong. W ciągu ostatnich 9 lat Sophie dużo podróżowała, oferując poziomy 1-2, 3, 4 i 5 setkom ludzi w całej Ameryce Północnej i Europie. Jako uczennica Sakjong Mipham Rinpocze od 1990 roku, Sophie jest również certyfikowanym instruktorem medytacji i nauczycielem w tradycji buddyjskiej Szambhala od ponad 20 lat. Obecnie pracuje dla Kalapa Media jako dyrektor ds. tłumaczeń i mieszka w Massachusetts.
Sugerowana darowizna za uczestnictwo 550 zł
Early Bird ( 500zł) z pełną wpłatą do 23 lipca 2020.
Rejestrację wraz z wpłatami zamykamy ostatecznie 23 sierpnia 2020!
W czasie warsztatu przewidziana jest przerwa na obiad we własnym zakresie.
Liczba miejsc ograniczona. Gwarancją rezerwacji jest wpłata zaliczki w wysokości 200 zł.

Dla osób powtarzających program - 50% ceny podstawowej
W wyjątkowych przypadkach istnieje możliwość obniżenia ceny programu lub rozłożenia opłaty na raty.
Ilość miejsc ograniczona. Bardzo prosimy o szybką rejestrację.
Wpłatę z dopiskiem "QiGong 5 " prosimy dokonywać na konto Ośrodka:
Shambhala Kraków
Alior Bank S.A. O/Kraków
98 2490 0005 0000 4500 8581 0440
English Version
Everyone who has completed level 4 of Qigong in the Eva Wong line is invited to take part in the unique QiGong - Level 5 classes. During the workshop participants will learn forms: Leopard, Snake and Crane in the positions of the Wudang Shan line of Five Inner Animals Training.
The leopard form trains tendon flexibility and strength; the snake form trains flexibility in the spinal column to facilitate the circulation of qi; and the crane form enhances the ability of the body to conserve and store generative energy (jing). In addition, by immersing themselves in the spirit of these animals, participants will eventually embody the explosive power of a leaping leopard, the elusive movement of the snake, and the balanced stillness of a crane in repose. Part 3 of the Immortals' Guide to Self-massage and Breath regulation. This system combines self-massage and breath control to facilitate the conservation and circulation of internal energy. Part 3 of Chen Xiyi's Red Phoenix Calisthenics System. This system combines tendon-changing, calisthenics, self-massage, and breath regulation.
The cultivation of body needs to be balanced by the cultivation of mind. Therefore, Shambhala shamatha meditation will be integrated with qigong practice throughout the program.
Suggested donation for participation PLN 550
Early Bird ( 500 PLN) with full payment by 23 July 2020.
Registration and payments will be finally closed on 23 August 2020!
During the workshop there is a break for lunch on our own.
Number of places is limited. The guarantee of reservation is an advance payment of 200 PLN.
For those repeating the program - 50% of the basic price
In exceptional cases, the price of the scheme may be reduced or the fee may be spread in instalments.
Number of seats is limited. Please register quickly.
Please make a payment with the note "QiGong 5 " to the account of the Centre:
Shambhala Krakow
Alior Bank S.A. O/Kraków
98 2490 0005 0000 4500 8581 0440