Poziom 1 Treningu Shambhali - "Sztuka Bycia Człowiekiem"
with Sarah Coleman
Poziom I Treningu Shambhali "Sztuka bycia człowiekiem"
UWAGA: Eary Bird (przy rejestracji i wpłacie CAŁOŚCI KWOTY do 1 maja 2019): 300 zł
Program jest adresowany do wszystkich osób, w szczególności dla rozpoczynających swoją przygodę z medytacją
Poziom I Treningu Shambhali jest weekendowym warsztatem medytacji, opartej na uważności i świadomości.
Ta prosta, jednocześnie głęboka i wymagająca technika, pozwala nam zatrzymać się i być z samym sobą. Doświadczyć przebłysków otwartości, zaufania do siebie, łagodności – bezwarunkowego dobra, leżącego u podstaw egzystencji.
Trening ma charakter świecki i otwarty dla wszystkich. Składa się instrukcji do medytacji, sesji medytacyjnych, wykładów i dyskusji. Istnieje możliwość jego kontynuowania i uczestnictwa w kolejnych poziomach Treningu.
Program nauczany w języku angielskim z tłumaczeniem na język polski.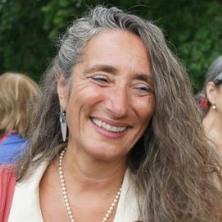 Zajęcia poprowadzi Sarah Coleman, uczennica Chogyama Trungpy Rinpocze od roku 1972, a póżniej jego syna Sakyonga Miphama Rinpocze. Przez wiele lat była edytorką tekstów Chogyama Trungpy dzięki czemu miała możliwość osobistego kontaktu z Rinpocze oraz pracy nad licznymi publikacjami m.in. nad książką Shambhala : Święta ścieżka wojownika. Sarah naucza Buddyzmu i Shambhali od ponad trzydziestu pięciu lat, w Europie mieszka i naucza od roku 1996.
________________________
Level 1: The art of being human

Through the practice of meditation, we glimpse unconditional goodness as the ground of our existence. Opening to ourselves with gentleness and appreciation, we begin to see our potential as genuine and compassionate human beings.
In the programme: walking and sitting meditation, talks, silent periods, group discussions. Programme open to all. No prerequistes apply.
Teacher: Sarah Coleman has been a student of the Dorje Dradul, Chögyam Trungpa, Rinpoche, and Sakyong Mipham Rinpoche since 1972. Serving as the Dorje Dradul's editor for many years, she had the good fortune to spend a lot of time with him, and worked on many of his publications, including Shambhala, the Sacred Path of the Warrior. Sarah has taught extensively for more than thirty years, and has been living and teaching in Europe since 1996.
TAUGHT IN ENGLISH WITH POLISH TRANSLATION.