Poziom 4 Treningu Shambhali - "Przebudzone Serce"
with Sarah Coleman
Warunkiem uczestnictwa w programie jest ukończenie Poziomiu 3 Treningu Shambhali
UWAGA: Eary Bird (przy rejestracji i wpłacie CAŁOŚCI KWOTY do 30 kwietnia 2019): 400 zł
Poziom 4 Treningu Shambhali "Przebudzone Serce" to program, który pogłębia i wzmacnia doświadczenie naszej praktyki medytacji. Podczas tego warsztatu będziemy pozwalać swoim otwartym sercom odczuwać i doswiadczać, że nasze wewnętrzne i zewnętrzne doswiadczenia nie różnią się od siebie. Będziemy pozwalać aby ciekawość pokazała nam świat poza naszymi codziennymi lękami.

W programie wprowadzenie do kolejnej techniki medytacji, sesje medytacyjne i medytacja podczas chodzenia, wykłady, rozmowy indywidualne z instruktorem, grupy dyskusyjne.
Program prowadzony w języku angielskim z polskim tłumaczeniem.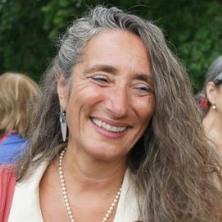 Sarah Coleman pochodzi z Ameryki i od roku 1972 jest uczennicą Chogyama Trungpy Rinpocze i jego syna Sakyonga Miphama Rinpocze. Przez wiele lat by?a edytorem tekstów Chogyama Trungpy, dzieki czemu miała możliwość osobistego kontaktu z Rinpocze oraz pracy nad licznymi publikacjami m.in. nad książką "Shambhala. Święta ścieżka wojownika". Sarah naucza buddyzmu i ścieżkii Shambhali od ponad 35 lat. Mieszka i naucza w Europie od 1996 roku, obecnie w Amsterdamie.
Cena programu: 450 zł
Eary Bird (przy rejestracji i wpłacie CAŁOŚCI KWOTY do 30 kwietnia 2019): 400 zł
Powtarzający: 225 zł
Potwierdzeniem rejestracji i rezerwacji swojego miejsca na programie jest wpłata całości kwoty lub bezzwrotnej zaliczki w wysokości 100zł na konto:
Shambhala Kraków
Alior Bank S.A. O/Kraków
98 2490 0005 0000 4500 8581 0440
W razie pytań prosimy o kontakt na: [email protected]
Więcej informacji wkrótce, serdecznie zapraszamy,
Shambhala Kraków
______________________
Awakened Heart: Shambhala Training Level IV In this pivotal program, we allow our hearts to be touched without closing down, and from this place, we learn that our inner experience and our outer experience are not so different after all.
Having further awakened our minds and hearts in Shambhala Training Weekend III, we continue our journey by allowing our natural curiosity to show us more of our world outside the parameters of our usual fears.
Sarah Coleman has been a student of the Dorje Dradul, Chögyam Trungpa, Rinpoche, and Sakyong Mipham Rinpoche since 1972. Serving as the Dorje Dradul's editor for many years, she had the good fortune to spend a lot of time with him, and worked on many of his publications, including Shambhala, the Sacred Path of the Warrior. Sarah has taught extensively for more than thirty years, and has been living and teaching in Europe since 1996.
TAUGHT IN ENGLISH WITH POLISH TRANSLATION.
Price of the programme: 450 PLN
Early bird (till 30 April 2019): 400 PLN
More information: [email protected]
Welcome!
Shambhala Cracow