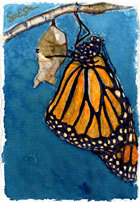 Poziom 2 Treningu Shambhali - "Narodziny Wojownika"
with Mirosław Flokiewicz
Skoro - jak dowiedzieliśmy się tego na Poziomie I Treningu Shambhali - wszyscy mamy podstawową dobroć, to dlaczego nie możemy nią żyć? Dlaczego tak często jej nie widzimy? Dlaczego cierpimy? Poziom II daje nam odpowiedź na te pytania. Na Poziomie I usłyszeliśmy dobrą wiadomość: wszyscy, każdy z nas, jest podstawowo dobry, podstawowo w porządku. U samego gruntu, u samej podstawy jesteśmy już całkowice, kompletni. Nic nam nie brakuje. Na Poziomie II dowiemy się, o nam przeszkadza w swobodnym doświadczaniu tej kompletności.

Warunkiem uczestnictwa w programie jest ukończenie Poziomiu I Treningu Shambhali.
Poziom II Treningu Shambhali "Narodziny wojownika" to program, który pogłębia i wzmacnia doświadczenie medytacji. Uczymy się zauważać przeszkody, jakie pojawiają się w naszym umyśle podczas praktyki medytacyjnej. Odkrywamy również, do jakiego stopnia jesteśmy więzieni przez nawykowe wzorce zachowań i stereotypy myślowe. Uczymy się, jak stawić czoła lękowi, który pojawia się, kiedy próbujemy wychodzić poza te schematy.
W programie wprowadzenie do kolejnej techniki medytacji, sesje medytacyjne i medytacja podczas chodzenia, wykłady, rozmowy indywidualne z instruktorem, grupy dyskusyjne.
Nauczycielem podczas tego Treningu Shambhali będzie Mirek Flokiewicz
Sugerowana darowizna (pokrywająca koszty organizacyjne):
Early Bird przy wpłacie do 29.04.2020 - 270zł;
po 29.04.2020 - 320zł
Osoby powtarzające program: 160 zł
Członkowie Shambhali: 280zł
W indywidualnych przypadkach istnieje możliwość uzgodnienia rat lub innej wysokości wpłaty.
Uwaga: Warunkiem rejestracji i rezerwacji miejsca jest wpłata bezzwrotnego zadatku w wysokości 80 zł.
Krakowska Grupa Szambali
ul. Miodowa 32/5 31-052 Kraków
Alior Bank S.A. oddział w Krakowie
98 2490 0005 0000 4500 8581 0440
W sobotę i niedzielę w ciągu dnia przerwa obiadowa (we własnym zakresie) i przerwy na herbatę.